Synopsis
In the realm of smart, sexy crime novels (and movies) such as L.A. Confidential and The Girl With The Dragon Tattoo comes To The Dogs, a transformative crime novel. Teeming with rich characters, action, and dynamic entertainment, To The Dogs explores true power. A young man's losses propel his fall from integrity into the world of crime. Desperate to escape the legacy of a tragedy he feels responsible for, Jack Niesen flees his Kansas farm and winds up in the wild, lawless world of Northern California, circa 1950 where Irish politicians, land owners and Mexican labor forces struggle for power and money. Young Jack fights for survival and advancement. And with his rise, he falls to the gutter, to the dogs, where also lies redemption and the knowledge that true power comes from within.
Halfdan Hussey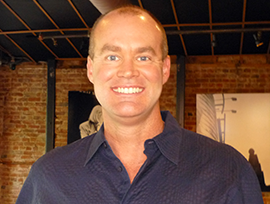 Halfdan (hallf' dun) Hussey is the co-Founder and Director of Cinequest. Set in Silicon Valley, Cinequest fuses innovations with creativity to empower youth, artists, and innovators globally. He is also a renowned writer and film director. His passion for creating positive and transformative impact in our world is ever-present in his work. Named by Metro Newspapers as one of the 25 people who most dramatically changed the Silicon Valley over the past 25 years, Halfdan is a recognized leader in art and technology. Having directed three films, published two books, and successfully built companies, Halfdan demonstrates his love for the worlds of leadership, art and youth empowerment. FULL BIO >
Purchase Today



Proceeds from the TO THE DOGS novel will benefit Cinequest Picture the Possibilities.
JOIN US ON

REVIEWS
"With a narrative that keeps you hooked and a variety of characters who fill their roles so perfectly, there is little to not like about this book. Hussey manages to make you root for these characters, admire them, and he makes the crime world nice somehow and makes you feel compassion and see the good guy in those who most likely don't deserve it. It is a wonderful an unexpected read." - Amy (lostinagoodbk.wordpress.com)