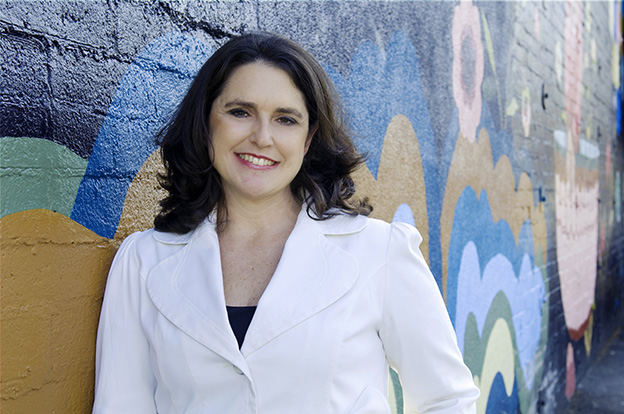 Combining a diverse background in engineering and art, plus a passion to bring the transformative vision of youth and artists to the world, Kathleen J. Powell serves as President and Co-Founder of Cinequest Inc.
Cinequest's unique yet integrated divisions showcase Kathleen's capacities: 1) Cinequest Picture The Possibilities empowers youth through the creation of transformative films, connecting with leaders and global audiences to improve worlds; 2) Cinequest Mavericks Studio creates innovative and transformative motion pictures and distribution paradigms; and 3) Cinequest Film & VR Festival provides a discovery bastion for film, artists and media technologies.
Although gifted in math and science, the teenage Kathleen answered her father's question about her future as follows: "I want to be a truck driver." He convinced her to forego this apparent passion to pursue higher education. Ironically, this path led to her true calling. While gaining her Masters in computer science, a group of visionary filmmakers convinced her to join their summer feature film project. She produced the film, He's Still There, which went on premiere at the Venice Film Festival. Inspired, she would soon Co-Found Cinequest with Halfdan Hussey in the Silicon Valley.
"Strength comes from the people involved and how great their passion and skills are. The leaders of Cinequest have both of those. That's why it's been with us for some time and will still be here long into the future." - Steve Wozniak (Co-Founder, Apple Inc)
Named a top ten film festival in the world and the leader in showcasing (and applying) the technologies that have revolutionized film making, exhibition and distribution, Cinequest Film & VR Festival (CQFF) has built a legacy of discovery, pioneering and connecting. Many firsts have occurred at CQFF: countless film and technology premieres.
As a part of her ongoing influence and effort to empower, Kathleen led Cinequest to create Picture the Possibilities, giving youth the power to create through film and in their lives. Already youth in Silicon Valley, Los Angeles, New York City, Mexico City, Jakarta, Cambodia, Hong Kong, and Beijing have used this power to create over 200 films and projects of impact.
Cinequest Mavericks Studio (CMS) has fostered Kathleen's ability to further the voice of artists through distribution (over 70 feature films) as well as production of films that matter. Recently Kathleen had the honor of co-directing and co-producing Life is Love, a highly uplifting feature film about a group of inspirational women who have triumphed over severe adversity. Life Is Love completed post-production in September 2013 and was released in 2015.
In addition to her work at Cinequest, Kathleen enjoys giving power to women in developing countries via mentoring with the Bush Institute's Women's Initiative Fellowship. Prominent American business women are paired with Fellows to empower and equip these women to become effective leaders. As one of their first leaders, she mentored a young woman from Egypt, helping her develop leadership skills, build a strong media company, learn to advocate for social stability, and build civil society.
Metro Newspapers named Kathleen one of the 25 people who dramatically changed the Silicon Valley over the past 25 years in 2010.
Kathleen's profound impact and everlasting passion to empower globally has provided exceptional opportunities and impact. With her unending passion and love for serving artists, innovators and youth worldwide, Kathleen takes new strides towards the future in her personal and professional contributions.