Internships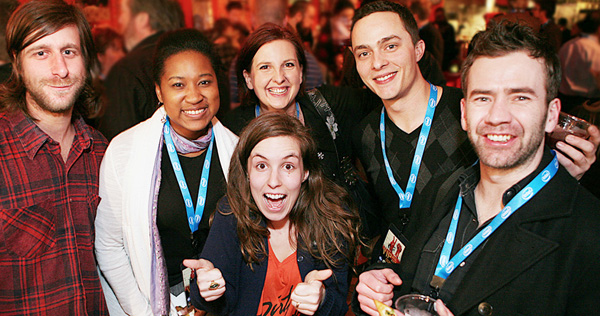 Cinequest Interns are an integral and important component in developing and executing all of Cinequest's electrifying events and programs. Our unique and professional internship program gives each intern the full responsibility to effectively carry out specific tasks in their department. Though demanding, Cinequest Intern positions are very rewarding and fulfilling, allowing each intern to gain dynamic, relevant, professional working experience. If you want an internship that makes a difference; and if you want to walk away with enhanced skills and a better resume, take a look at the Cinequest internship opportunities below.
Please email your interest to interns@cinequest.org Include which position(s) interests you in the subject. No phone calls please. All internships are unpaid.
PUBLICITY / PUBLIC RELATIONS (PR) PDF
Entertainment PR takes creativity and persistence; an outgoing personality doesn't hurt either. Publicity interns build media relations, manage contacts, schedule media bookings, write press releases, and build publicity campaigns around Cinequest films.
MARKETING PDF
Marketing interns will be involved with effectively and consistently positioning and promoting the Cinequest brand and engaging customers with its additional divisions. Well-developed writing skills, ability to multitask, creative, and organized are all key qualities.
GRAPHIC DESIGN PDF
Our graphic design interns will help develop, design, and create marketing campaigns for the Cinequest Film Festival. You will be an essential part of our team as we create the Cinequest Film Festival Guide and yearly marketing deliverables. Experience/Expertise in the entire Adobe Suite is preferred.
ASSISTANTS PDF
Assistants contribute to all aspects of Cinequest while learning from the Cinequest Executive Team. The job requires diversified skills and a rigorous commitment to excellence.
HOSPITALITY / EVENTS PDF
This unique internship provides the ultimate opportunity to gain experience in planning, organizing, and implementing various hospitality services and events throughout the Cinequest Film Festival. Learn about the details and planning needed to successfully and smoothly execute an event.
PICTURE THE POSSIBILITIES FILM EDITOR PDF
Edit powerful short films made by global youth expressing their visions for a better tomorrow. Films are exhibited during the festival and published online.
WRITING PDF
Our writing interns will assist Cinequest in creating many different written materials. You will work with the Marketing, Publicity, and Executive staff in executing writing projects.