Hotels
Cinequest is pleased to announce our Partner Hotels for Cinequest Film & Creativity Festival. These are some of the Silicon Valley's premier partner hotels and Cinequest is confident that you will not find a better value in the South Bay.
Simply call one of the following hotels and request the Cinequest rate. NOTE: Rooms at our special Cinequest rate are first come first serve, so please do book promptly!
Hotel De Anza

233 W Santa Clara Street
408-286-1000

Hotel De Anza, a downtown San Jose boutique hotel, welcomes you to the ultimate combination of classic Art Deco architecture, modern comfort and exceptional hospitality. Located near the SAP Center, San Jose Convention Center and the best restaurants and attractions, this iconic Northern California hotel is on the National Register of Historic Places and just three miles from the San Jose Airport. Offering signature amenities, comfortable rooms, unique meeting venues and event spaces tailored to fit the needs of the savvy traveler, you'll find it all at Hotel De Anza. view website >

 

San Jose Marriott

301 South Market Street
408-280-1300

Located in the hub of downtown entertainment, steps from The California Theater and Hammer Theater, our hotel features 510 guestrooms and suites, a pool, Starbucks, Lounge and Modern American Steakhouse. view website >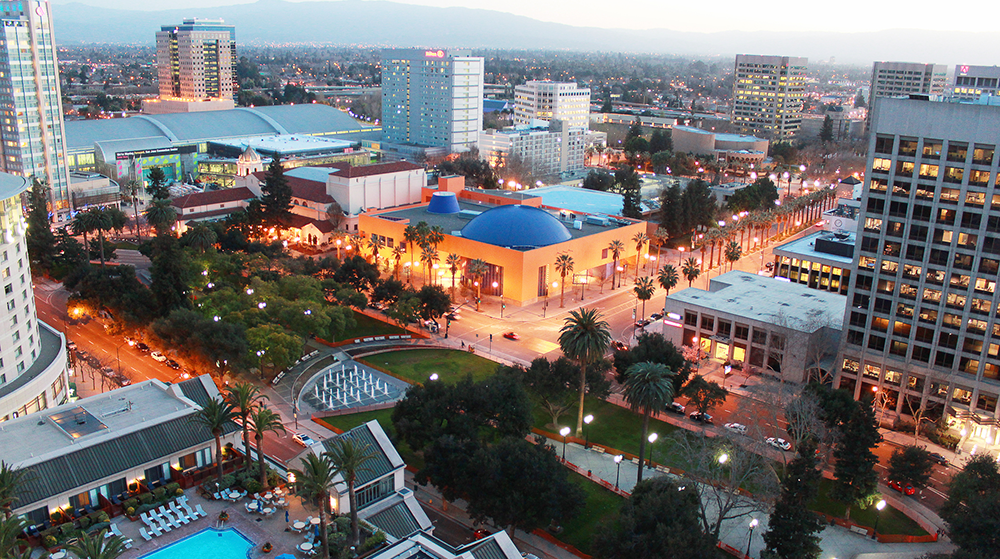 Downtown San Jose Parking
PATRON PARKING PASSES

Patron Parking Passes are available for purchase ONLY at the 2nd & San Carlos Garage. Passes are valid from March 5 to March 17, 2019.
Option (1) Parking Pass for either 2nd & San Carlos Garage OR San Pedro & Market Street Garage. Cost: $50
Option (2) Parking Pass for both 2nd & San Carlos Garage AND San Pedro & Market Street Garage. Cost: $75
San Pedro & Market Street Garage Office Hours:
Monday - Friday, 8:00 AM - 1:00 PM
2nd & San Carlos Garage Office Hours:
Hours for 2nd/ San Carlos Garage: Monday - Wednesday, 8am - 11pm, Thursday - Friday 8:00 AM - 2:00 AM, Saturday 11:00 AM - 2:00 AM, Sunday 11:00 AM - 11:00 PM
**Note: Passes are not available for online purchase and are only available at the 2nd & San Carlos Garage Offices. Cinequest does not sell these passes.
PARKING VALIDATIONS
Cinequest provides validation coupons good for 3 hour 45 minute of free parking with purchase of same day screening ticket and for festival pass holders. Validations are provided at each theater screening by Theater Managers.
Validation cannot be combined with other validations.
Note: On a Shark's game day at SAP Center (formerly known as HP Pavilion), the San Pedro & Market Street Garage will have a pre-pay flat fee of $7, 2.5 hours before the start of the game, until a half hour after the game begins. For example, if a Shark's game starts at 7:30pm, then from 5pm - 8pm parking validations at the San Pedro & Market Street Garage will not be valid. However, if you have a parking pass for the San Pedro & Market Street Garage, then it will override the system.
For additional parking information, please visit https://parksj.org/
Downtown Redwood City Parking
Downtown Redwood City features ample parking via street space, lots, and garages. Check out their new downtown parking map with suggested lots and garages for different times of day! Limited free parking is also available at the following locations:
Century Downtown 20 (825 Middlefield Rd) offers patrons 4 hours of free validated parking in their garage and at Box (900 Jefferson St.)


County Garage: The County Garage (on Middlefield Road just off Veterans Boulevard) converts to free public parking during evenings and weekends. With its quick access to and from Veterans Boulevard, the County Garage is a short 3-block walk.


Caltrain Lot: The Caltrain parking lot by Perry Street offers free public parking Monday - Friday after 6:00 pm and all day on weekends.
ALTERNATE TRANSPORTATION
Skip the drive and spend a day at Cinequest with our public transportation partners!

Introducing EZFare

VTA has transitioned from mobile fare app EventTIk to EZFare! Not only can you purchase passes for special events, but you can now purchase single ride, day and express passes. Beginning January 1, 2018, single ride fares purchased on EZFare are valid for 2 hours and include free transfers on VTA bus and light rail. For more information and to download the app today, visit vta.org/ezfare.

Ride CalTrain to festival films and events in Downtown San Jose (Diridon Station) and Downtown Redwood City (Redwood City Station). http://www.caltrain.com

Ride SamTrans buses to the festival films and events in Downtown Redwood City (Redwood City Transit Center). http://www.samtrans.com
Venues
Please find the Venue Map for San Jose and Redwood City as a PDF here.
CALIFORNIA THEATRE
345 S. 1ST STREET SAN JOSE, CA 95113
HAMMER THEATRE CENTER
101 PASEO DE SAN ANTONIO SAN JOSE, CA 95113
3 BELOW THEATERS
288 S. 2ND STREET SAN JOSE, CA 95113
CENTURY DOWNTOWN 20
825 MIDDLEFIELD ROAD REDWOOD CITY, CA 94063