Hotels
Cinequest is pleased to announce our Partner Hotels for Cinequest Film & VR Festival. These are some of the Silicon Valley's premier partner hotels and Cinequest is confident that you will not find a better value in the South Bay.
Simply call one of the following hotels and request the Cinequest rate. NOTE: Rooms at our special Cinequest rate are first come first serve, so please do book promptly!
Fairmont San Jose
Cinequest Headquarter Hotel

170 South Market Street
408-998-1900

An icon in the heart of Silicon Valley for over 25 years, The Fairmont San Jose delivers an irresistible blend of innovation and elegance. Indulge in a relaxing stay in one of our luxurious guest rooms or suites. view website >

 

Hilton San Jose

300 Almaden Boulevard
408-287-2100

The most recognized name in the industry, Hilton Hotels & Resorts stands as the stylish, forward thinking global leader of hospitality. With over 92 years of experience, Hilton continues to be synonymous with hotel because of our innovative approach to products, amenities and service. view website >

 

Hotel De Anza

233 W Santa Clara Street
408-286-1000

Named after famed explorer Juan Bautista de Anza, the iconic Hotel De Anza in the heart of San Jose's central business district has been beautifully renovated in 2015. Significant for its architectural style, it is one of San Jose's few "Zigzag Moderne" Art Deco buildings. The interior of the De Anza is distinguished by its main lobby where Art Deco elements are integrated into a predominantly Spanish Colonial Revival decorative scheme. view website >
Hyatt Place San Jose Downtown

282 Almaden Boulevard
408-998-0400

This Hyatt Place hotel features 236 large, cozy guestrooms and suites, as well as nearly 7,000 square feet of flexible meeting/banquet space.  We also offer complimentary breakfast daily, 24/7 food service & free Wi-Fi throughout the hotel and guestrooms. view website >

 

San Jose Marriott

301 South Market Street
408-280-1300

Visit the San Jose Marriott, in the heart of downtown, and find the favorite nightlife destination for locals, Tanq, and the perfect date night restaurant at Arcadia, a Modern American Steakhouse by Michael Mina. Make a night (or day) of it and discover comfortable guestrooms, modern meeting facilities and much more. view website >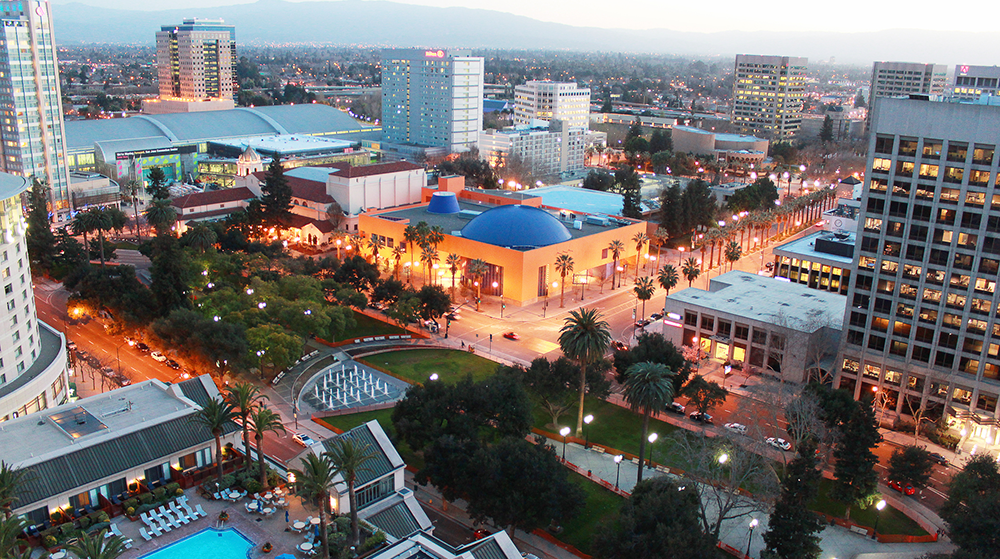 Downtown San Jose Parking


PATRON PARKING PASSES

Patron Parking Passes are available for purchase at either the San Pedro & Market Street Garage or the 2nd & San Carlos Garage. Passes are valid from February 28 to March 12, 2017.
Option (1) Parking Pass for either 2nd & San Carlos Garage OR San Pedro & Market Street Garage. Cost: $50
Option (2) Parking Pass for both 2nd & San Carlos Garage AND San Pedro & Market Street Garage. Cost: $75
San Pedro & Market Street Garage Office Hours:
Monday – Friday 8:00 AM – 1:00 PM
2nd & San Carlos Garage Office Hours:
Hours for 2nd/ San Carlos Garage: Monday – Wednesday 8am – 11pm, Thursday- Friday 8:00 AM – 2:00 AM, Saturday 11:00 AM – 2:00 AM, Sunday 11:00 AM – 11:00 PM
**Note: Passes are not available for online purchase and are only available at the 2nd & San Carlos or at the San Pedro & Market Street Garage Offices. Cinequest does not sell these passes.
PARKING VALIDATIONS
Cinequest provides validation coupons good for 3 hour 30 minute of free parking with purchase of same day screening ticket and for festival pass holders. Validations are provided at each theater screening by Theater Managers or in Camera 12 Cinemas lobby at Nathan Louie's Greeting Station.
Validation cannot be combined with other validations.
Note: On a Shark's game day at SAP Center (formerly known as HP Pavilion), the San Pedro & Market Street Garage will have a pre-pay flat fee of $7, 2.5 hours before the start of the game, until a half hour after the game begins. For example, if a Shark's game starts at 7:30pm, then from 5pm – 8pm parking validations at the San Pedro & Market Street Garage will not be valid. However, if you have a parking pass for the San Pedro & Market Street Garage, then it will override the system.
For additional parking information, please visit http://www.sjdowntownparking.com
Santana Row Parking
Self-parking is available daily in Santana Row garages and surface lots for free, and they also offer the convenience of valet parking services for just $8 in the Winchester Parking Garage. Valet parking is available in the Winchester Garage, ground level.


Download the Santana Row parking map for self-parking and valet locations.
Downtown Redwood City Parking
Downtown Redwood City features ample parking via street space, lots, and garages. Check out their new downtown parking map with suggested lots and garages for different times of day! Limited free parking is also available at the following locations:
Century Downtown 20 (825 Middlefield Rd) offers patrons 4 hours of free validated parking in their garage and at Box (900 Jefferson St.)


County Garage: The County Garage (on Middlefield Road just off Veterans Boulevard) converts to free public parking during evenings and weekends. With its quick access to and from Veterans Boulevard, the County Garage is a short 3-block walk.


Caltrain Lot: The Caltrain parking lot by Perry Street offers free public parking Monday - Friday after 6:00 pm and all day on weekends.
ALTERNATE TRANSPORTATION
Skip the drive and spend a day at Cinequest with our public transportation partners!

Ride VTA buses and lightrail to the festival films and events in downtown San Jose and Santana Row with their with their 8-Hour excursion pass http://www.vta.org/.

Ride CalTrain to festival films and events in Downtown San Jose (Diridon Station) and Downtown Redwood City (Redwood City Station). http://www.caltrain.com

Ride SamTrans buses to the festival films and events in Downtown Redwood City (Redwood City Transit Center). http://www.samtrans.com